Neverending Touring ist das Stichwort. Sowohl PYOGENESIS als auch ZSK haben Fortsetzungen ihrer Touren im Frühjahr angekündigt. Daten sagen mehr als Worte:
PYOGENESIS 2017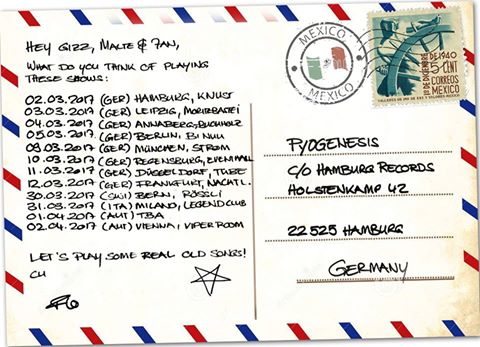 02.03.17 (GER) Hamburg, Knust
03.03.17 (GER) Leipzig, Moritzbastei
04.03.17 (GER) Annaberg-Buchholz, Alte Br.
05.03.17 (GER) Berlin, Bi Nuu
09.03.17 (GER) München,Strom
10.03.17 (GER) Regensburg, Eventh. Airport
11.03.17 (GER) Düsseldorf, Tube
12.03.17 (GER) Frankfurt Nachtleben
30.03.17 (SWI) Bern Rössli
31.03.17 (ITA) Milano Barrios Club
01.04.17 (AUT) tba
02.04.17 (AUT) Wien, Viper Room
Tickets: http://hamburgrecords.com/pyogenesis/tickets.html
ZSK "Live Für Die Sache" Tour 2017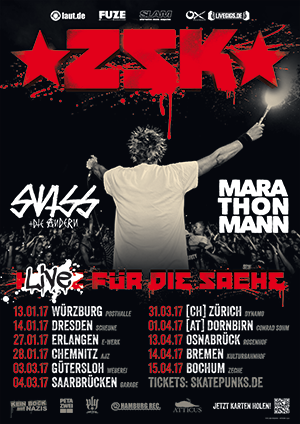 Support: Swiss & die Andern + Marathonmann
präsentiert von FUZE, SLAM, OX FANZINE & livegigs.de , laut.de & peta2.de
13.01.17 Würzburg, Posthalle
14.01.17 Dresden, Scheune
27.01.17 Erlangen, E-Werk
28.01.17 Chemnitz, AJZ
03.03.17 Gütersloh, Weberei
04.03.17 Saarbrücken, Garage
31.03.17 (CH) Zürich, Dynamo
01.04.17 (AT) Dornbirn, Conrad Sohm
13.04.17 Osnabrück, Rosenhof
14.04.17 Bremen, Kulturbahnhof
15.04.17 Bochum, Zeche
Tickets: http://hamburgrecords.com/volumeclothing/tickets.html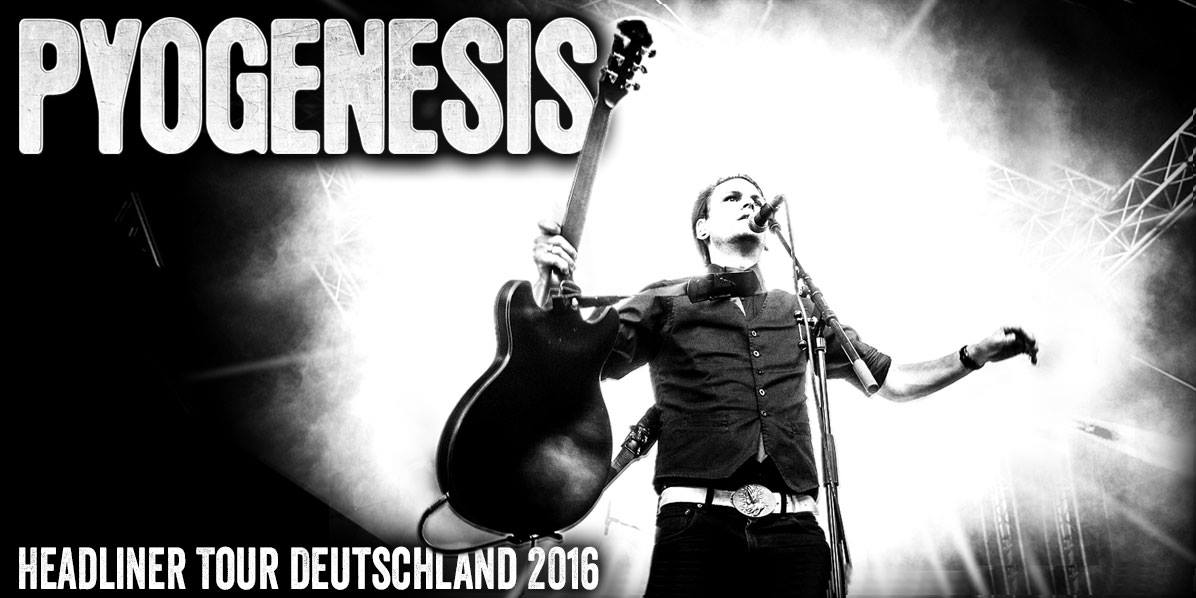 Next part of the PYGENESIS Tour will start soon. After that some dates with Life of Agony will follow!
PYOGENESIS Tour "A Century In The Curse Of Time" Part II
03.09.16 (GER) Essen, Turock Open Air
24.09.16 (GER) Hamburg Metal Dayz
06.10.16 (GER) Lübeck, Rider's Cafe
07.10.16 (GER) Osnabrück, Bastard Club
08.10.16 (GER) Köln, Luxor
12.10.16 (GER) Saarbrücken, Garage
13.10.16 (GER) Stuttgart, Universum
14.10.16 (GER) Lingen, Alter Schlachthof
15.10.16 (GER) Braunschweig, Eulenglück
13.11.16 (AUT) Vienna, Nimm City*
15.11.16 (POL) Gdansk, Start Manez*
16.11.16 (POL) Warsaw, Progresja M.Z.*
18.11.16 (GER) Aschaffenburg, Colos-Saal*
30.11.16 (GER) Saarbrücken, Garage*
01.12.16 (GER) Bochum, Zeche*
02.12.16 (GER) Siegen, Vortex
03.12.16 (GER) Augsburg, Kantine*
04.12.16 (GER) Herford, X*
06.12.16 (GER) Hamburg, Markthalle*
08.12.16 (SWE) Stockholm, Fryhuset*
09.12.16 (SWE) Gothenburg, Sticky Fingers*
* with Life Of Agony
"Live Für Die Sache" Tour 2016
presented by SLAM, OX, Livegigs und wasteofmind.de
+ SCHMUTZKI and ANCHORS & HEARTS
******************************************************************
15.01.2016 (GER) Frankfurt, Batschkapp
16.01.2016 (GER) München, Backstage
22.01.2016 (GER) Hannover, Bei Chez Heinz
23.01.2016 (GER) Hamburg, Uebel & Gefährlich
12.02.2016 (GER) Nürnberg, Z-Bau (Galerie)
13.02.2016 (GER) Stuttgart, Universum
18.02.2016 (AUT) Wien, Arena
19.02.2016 (GER) Leipzig, Conne Island
20.02.2016 (GER) Berlin , SO36
{youtube}5neVAxe6XkI{/youtube}