Im November touren ATLAS LOSING GRIP mal wieder durch die Lande, Seite an Seite mit ITCHY POOPZKID! Nice, sagt mensch heute wohl. Hier die Dates:
03.11.15 (GER) Nürnberg, Hirsch
04.11.15 (GER) Leipzig, Werk2
05.11.15 (GER) Hamburg, Fabrik
06.11.15 (GER) Dresden, Groove Station
07.11.15 (GER) Kassel, Musiktheater
08.11.15 (GER) Dortmund, FZW
11.11.15 (GER) München, Backstage
12.11.15 (AUT) Salzburg, Rockhouse
13.11.15 (AUT) Wien, Arena
14.11.15 (GER) Lindenholzhausen, Huhn Auf's Eis
Tickets: http://itchypoopzkid.de/#TermineTickets

We are happy to announce the first leg of the ATLAS LOSING GRIP tour that starts just a week after the release of their third record 'Currents'. We are also happy to announce that Smile And Burn will join the dates in Germany, Czech Republic and Austria.


► http://hamburgrecords.com/atlaslosinggrip/tickets.html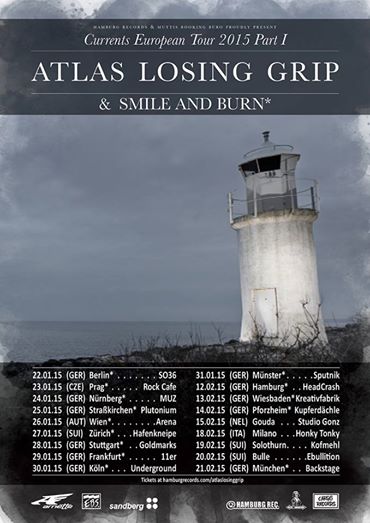 22.01.15 (GER) Berlin, SO36
23.01.15 (CZE) Prague, Rock Cafe
24.01.15 (GER) Nürnberg, MUZ
25.01.15 (GER) Strasskirchen, Plutonium
26.01.15 (AUT) Wien, Arena
27.01.15 (SUI) Zürich, Hafenkneipe
28.01.15 (GER) Stuttgart, Goldmarks
29.01.15 (GER) Frankfurt, 11er
30.01.15 (GER) Köln, Underground
31.01.15 (GER) Münster, Sputnik
12.02.15 (GER) Hamburg, Headcrash
13.02.15 (GER) Wiesbaden, Kreativfabrik
14.02.15 (GER) Pforzheim, Kupferdächle
15.02.15 (NEL) Gouda, Studio Gonz
18.02.15 (ITA) Milano, Honky Tonky
19.02.15 (SUI) Solothurn, Kofmehl
20.02.15 (SUI) Bulle, Ebullition
21.02.15 (GER) München, Backstage